Process & Solution
We love a challenge and one where we're there from the start, especially a truly novel one that addresses an entirely new set of opportunities. This wasn't a me-too product that you could reference competitors in the marketplace; this was something that needed to be invented.
Hypergiant Sensory Sciences is dedicated to building "sensory perception at scale" powered by machines that can see, sense, and alert us when important things happen in our environments. Sensory Sciences is all about augmented intelligence, focused on the idea that AI and humans together can accomplish something that neither could on their own.
Thoughtful UX is key to facilitating this, simplifying complex concepts like training objectives and "ground truth," and communicating when humans have completed their work, and machine intelligence is taking over. Sometimes the two need to work side-by-side. To address these challenges, we brought in the concept of bots—artificially intelligent agents that function inside the app just like other users, with avatars and personalities all their own.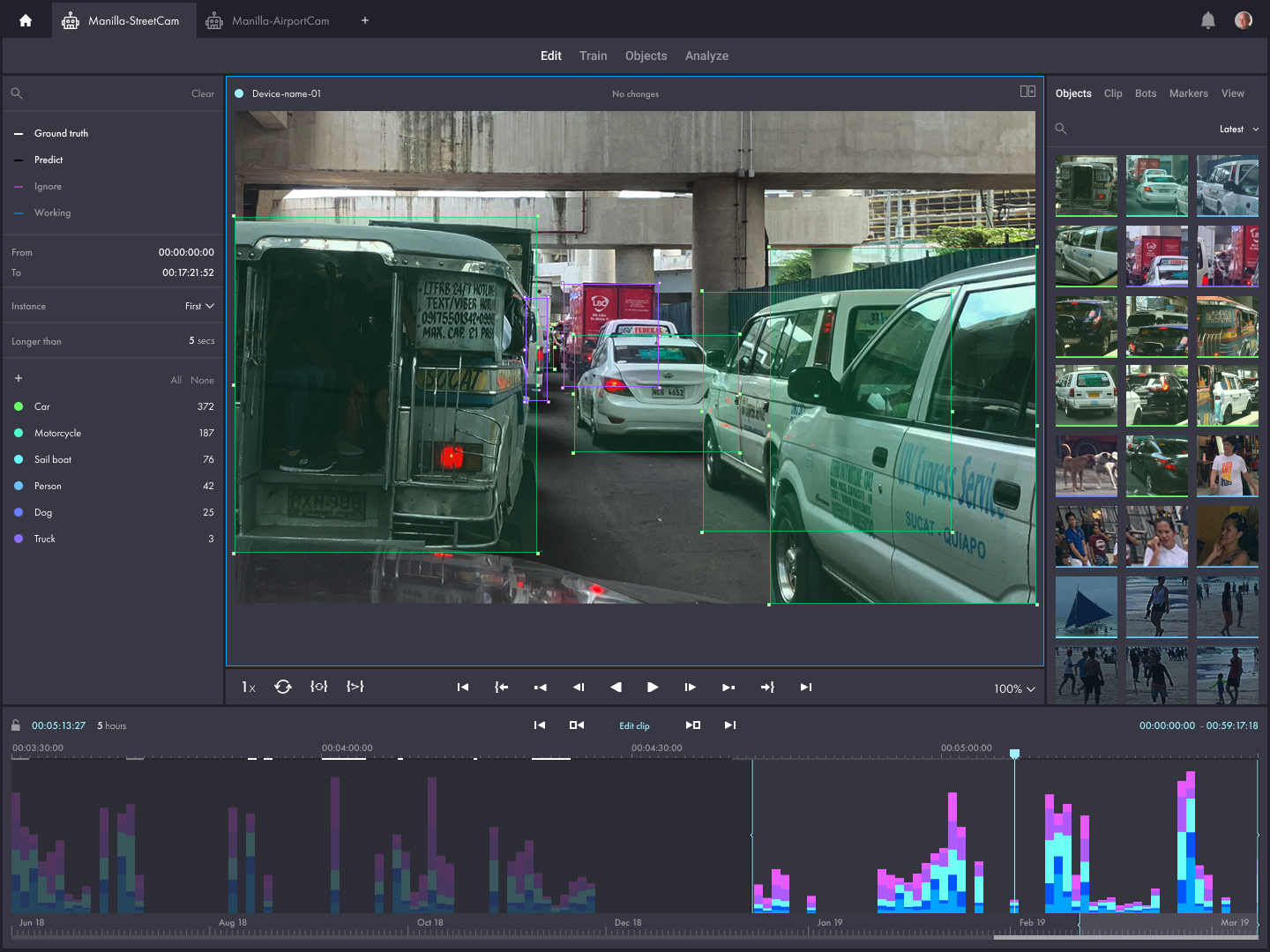 Recording millions of tracked objects over time creates significant user experience problems when attempting to scrub and edit information across such an extensive timeline. We solved these issues using a combination of timeline elements within a single timeline component. The solution works well because each timeline action is very different and does not require the same kind of overlap to provide context.
Another example would be a security camera positioned in the center of a mall that averages 5,000 people per day, and the system is tracking people. That's nearly 2 million tracked objects for one year of data. Navigating this many objects can be challenging. A timeline where every object is given a dedicated slice of vertical real estate creates a usability nightmare that scrolling can't solve. We addressed this problem by enforcing limits on the amount of video a user can edit at any given time. This also provided an opportunity to reduce the amount of functionality exposed to the user while in edit mode, making for a much simpler experience.
Creating a conversation with bots was also challenging. Customers will typically have multiple users using the system concurrently, and bots are typically set to consume and process video automatically. The best way to prevent collisions between users and bots is to enforce the concept of a workspace and create workflows that prevent users from making edits without first defining the workspace. Once the user has finished making changes, they will be prompted to save and release. Other users and bots will also have the ability to request access to portions of the video in use.
Positioned for Success
Solving these complex UX challenges and giving bots avatars and personalities all their own set the tone for how non-technical users would interact with the platform. Users could engage and quickly identify and track objects in video footage and create custom alerts based on anomalous events. The UX combined with Hypergiant's ML and AI was a breakthrough in the ability to observe, analyze and learn from our physical environments.